Finally, we managed to fix an annoying we glitch in our setup that was preventing the use of the CURIOS video mashup tool. You can access it via our demo server at https://demo.openlabyrinth.ca/ – simply go to the Tools menu then Video Mashup.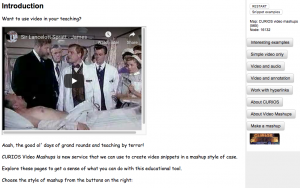 For more info on how to use the CURIOS service, check out the user guide. You can use CURIOS on most YouTube videos, not just your own.
You will need an authoring account on our demo OLab3 server to create your own mashup snippets. But once the snippets are created, anyone can use them.